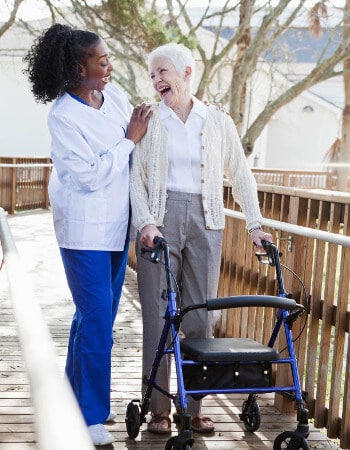 Home Care Gets Patient Back On Her Feet
Latest posts by Expert Home Care
(see all)
Sheila had spent nearly two months in the hospital and another three weeks in a rehab center following a serious illness. Although the rehab center was only days away from sending her home, she was still in bad shape. The 85-year-old woman had pressure ulcers on her legs and hips, and was undernourished, disoriented and weak.  If any time there was a need for her family to consider home care services, this was it.

Her son, Sam, lived several hours away and her only other living relative – a sister – lived nearby, but was too elderly and fragile to help. Coming up quickly with an appropriate care plan was left to her son, who quickly surmised he had limited choices. He could move his mother to an assisted living facility. He could have her live with him. He could advertise in the local newspaper for a person to come into his mother's home to care for her. Or he could hire a home care agency.
Hopeful that his mother would recover enough to continue to live an independent life, and aware that it might take months to sell her house to afford such a move, a senior living community was quickly crossed off as a viable option. Plus, he knew his mother would much rather prefer staying in her home.
Living with him was an equally poor option. He lacked the space and no one would be there during the day to care for her.
He thought about finding a woman to stay with her, but he realized this was risky. After all, even if she had references, what would that necessarily tell him? He had heard enough stories about people who could offer good references, but also had criminal records. Living so far away from his mother, it just wasn't something he felt comfortable doing.
This left one choice: finding a home care agency. He started the process by conducting an Internet search for local agencies. He found several that seemed appropriate and called each. He liked what he heard. Each agency was accredited, would provide client references, and conducted background and criminal checks on all aides. They insured their aides – so if injured on the job the patient and family would not be liable – and said they would give him their direct contact information should there be any future problems or concerns. What's more, they all offered him the opportunity to meet ahead of time with the aide they would assign to his mother.
He eventually selected the home care agency he believed would work best — Expert Home Care of New Jersey.  He met in person with the home health aide the agency offered and liked her immediately. He particularly liked that she was a mature woman in her 50s, with a "no nonsense" manner he believed would help get his mother back on her feet.
His research paid off. Wanda proved to be a take charge type who made sure his mother ate regularly and took her medication. She showered and groomed her, took care of her laundry and kept the house immaculate. Wanda got the elderly woman, once she started feeling stronger, her out of bed and walking, first around the house and then around the neighborhood.
Within two months, Sam's mother was like a new woman. Her pressure ulcers were gone and she felt back to where she had been before her illness. She had grown so used to having Wanda around and so fond of her that Sam felt it was a good idea to have her continue to come in several days a week for a few hours each day to make sure his mother remained mentally and physically active. 
It really is true, home care gets patient back on their feet.  🙂