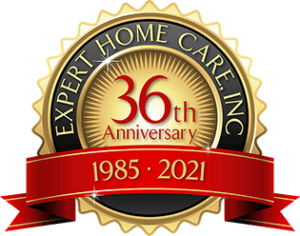 Specializing in New Jersey LIVE-IN CARE since 1985
Expert Home Care today is announcing new protocols we are implementing immediately for all Live-In Caregivers.
If you need Home Care today or very soon for a loved one, the Coronavirus (Covid -19) is causing many families to have concerns and take pause with their choices. Senior care issues can be challenging and stressful enough, but now, add to that this current crisis we are all dealing with from having to work remotely, perhaps running your own business, kids home from school, and much more.
Our Live-in Home Care service is truly one of the best and safest options for Home Care right now because:
One-to-one care from the same caregiver every day 7 days per week. This greatly reduces or minimizes the risk of any exposure that would be much greater with an hourly caregiver coming and going everyday.
Home is a safe secure and controlled environment.
Continuity of care from the same caregiver every day who gets to know the patient and their routines.
We transport the caregiver directly to patient door allowing us to do a pre-screen (see below for more information on CDC protocol we have implemented for all caregivers) including temperature check prior to meeting patient.
Expert Home Care of New Jersey has been specializing in Live-In Care since 1985 and has been awarded by Home Care Pulse as "Best of Home Care" 10 years in a row. We are also A+ rated by the Better Business Bureau of NJ and accredited by the National Institute for Home Care Accreditation.
 We can provide our service as a short-term option (no long-term contracts or commitments) until the virus concerns have abated and things get back to normal for all of us. We can set something up with just a 1 week minimum.
 Gives you "peace of mind" in knowing that your loved one is safe at home with a full-time Live-in caregiver, allowing you to continue to deal with this crisis and its demands and have "quality" visits with your loved one (of course with proper precautions).
We have implemented the following protocols in consultation with our nursing staff, CDC recommendations and our Accreditation Body for all Caregivers, Drivers and other Employees:
A) We verbally screen all Caregiving staff by asking the following questions prior to any placement:
1) Have/had any symptoms of illness such as cough, sore throat, fever or any breathing/respiratory problems not due to another health problem?
2) Are you experiencing any other new symptoms not due to another health problem such as chills or shaking, fatigue, muscle aches/pains, headache, loss of taste or smell, congestion/runny nose, nausea or vomiting, diarrhea?
3)  In the past 2 weeks, have you or anyone you live with traveled outside of your local community such as to a different state?
4) In the past 2 weeks, did you have any close contact with someone who has Covid-19 or is suspected of having?
B) All Caregivers will be required to be screened immediately prior to client placement. The screening will include a body temperature check. If the caregivers body temperature is higher than 100.4, we will not permit the caregiver to proceed to the job assignment.
C) We are also screening any new clients with same questions to ensure safety for our employees and everyone involved. The assigned live-in caregiver can monitor your loved for symptoms every day (morning, noon and night) checking body temp and noting and reporting any changes right away.
All caregivers will continue to follow Universal Precautions at all times and continue to self-assess and monitor their own health and report any changes to agency immediately. We are available 24/7.
Expert Home Care will continue to actively monitor the progression of the Coronavirus, COVID-19, to ensure that we have the most accurate and latest information on the threat of the virus.  As you know, this situation continues to develop rapidly as new cases are identified in our communities and our protocols will be adjusted as needed.
Latest posts by David Goodman & Frank Esposito
(see all)