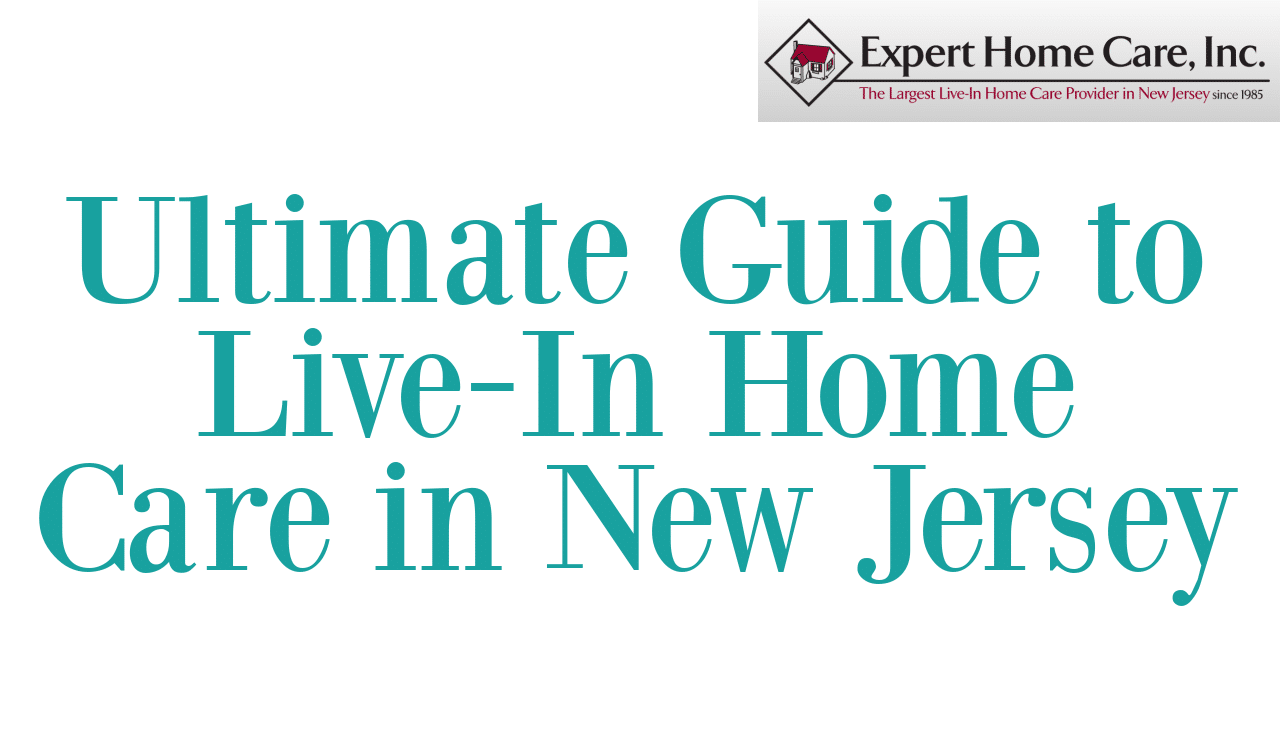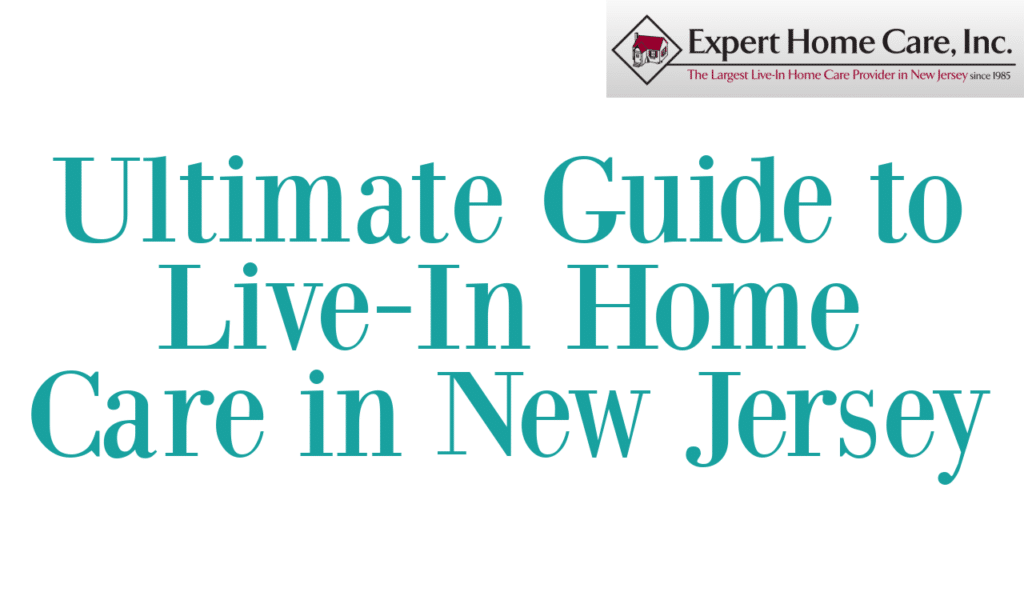 Ultimate Guide to Live-In Home Care for Seniors by Expert Home Care, Inc, the largest live-in home care provider in New Jersey since 1985.
One of the most difficult decisions we make for our loved ones is how to ensure they are safe as they age. Elderly parents develop increasing limitations due to the normal aging process and conditions such as Alzheimer's, Diabetes, Dementia, or Parkinson's Disease. When it becomes difficult for individuals to care for themselves, you need to consider options such as live-in home care or a nursing facility to ensure your loved one's comfort and safety.
What is Live-In Home Care?
One of the most attractive solutions for seniors who need help with daily living is live-in home care. With live-in care, a qualified home care worker lives with the person to help them with daily activities and provide companionship.
Live-in home care for the elderly is usually provided by a home care provider who lives with your loved one during the week. This person will take care of tasks such as laundry, light housekeeping, assisting with or preparing meals, help with personal hygiene tasks such as bathing and dressing, and being a companion. A live-in care provider stays overnight and sleeps at the same time as their client. In most arrangements, an alternative caregiver stays on the weekends so that there is constant care while giving each caregiver time off.
Advantages of Live-In Home Care
There are many advantages to home care for the elderly. Perhaps most important is the ability to keep your parent or loved one in their own home. According to the AARP, 87 percent of individuals over 65 years of age prefer to "age in place," a term referring to growing older in their own homes and communities (1)
Familiarity
Being surrounded by personal possessions and the memories of a lifetime is comforting, while the move to an assisted living facility can be traumatic. Live-in care is less expensive than most assisted living communities and lets your parent remain in his or her neighborhood, maintaining established friendships.
Maintaining Independence
Independence is highly valued, and the elderly fear its loss. Remaining at home gives them the freedom to make choices such as when to bathe, what snacks to eat, and when to have visitors. Assisted living facilities limit these kinds of options, which can be a difficult adjustment for those who have made their own decisions all their lives.
Customized Senior Care
A live-in home care aide customizes their services to the needs of the person in their care. If your parent has specific medical conditions or physical limitations, you can choose a home care provider who offers the appropriate level of care. Your loved one will also develop a strong rapport with their in-home care provider that isn't always possible with alternative options.
Affordability
Compared to a nursing home or assisted living, in-home care is more affordable. There is also more flexible, as you can determine whether in-home care is needed around the clock or just a few hours each day to attend to specific tasks. The cost of an at-home caregiver can be half of what you will pay for assisted living and a third of what you might pay for a nursing home.
According to Marty Bell, executive director of the National Aging in Place Council,
"There are a lot of people who argue aging in place is the solution to the sustainability of Medicare and Medicaid, that if enough people could be taught to age in place, and it's available to them, that it can really bolster the sustainability and strength of the Medicaid and Medicare program, so it's kind of a win-win for the individuals and the society as a whole." (2)
What is Included in Live-In Home Care for Seniors?
The level of care needed and your budget will determine what is included in live-in home care. Typically, the duties of a live-in care provider will consist of some or all of the following:
Local transportation.
Companionship.
Light housekeeping such as dusting and sweeping.
Laundry.
Meal assistance or meal preparation.
Personal assistance, including help with dressing, personal hygiene, and assistance with eating or drinking if needed.
Assistance with appointments and reminders.
Keeping in touch with a designated family member regarding the individual's condition.
Maintaining the home's safety (keeping obstacles off the floor, making sure appropriate lighting is in place, etc.)
Help with pets.
The number of services needed will determine the cost. Be sure you talk to your aging parents about what they need and don't need and take the time to observe them in their home to see for yourself what assistance is required.
The article Should You Get Elderly Care Services for Your Parent? provides some excellent guidelines to help you decide whether at-home senior care is appropriate.
Live-In Care vs. 24-Hour Senior Care
An alternative option for your loved one if they need more care than a live-in caregiver can provide is 24-hour senior care. If an individual isn't safe unless monitored 24/7, a team of care providers working in shifts provided constant supervision, even when the person is asleep. This is most often needed when someone has a severe health condition that requires nighttime care, such as frequent turning in bed to prevent bedsores or preventing nighttime wandering due to dementia. Twenty-four-hour care is more expensive than live-in care due to the need for a minimum of two caregivers to maintain constant coverage.
Is Live-In Care Affordable?
The cost of live-in care for the elderly reflects several variables, including how much care is provided, the area of the country where you live, the level of experience and education of the home care provider, and whether you hire through an agency like Expert Home Care, Inc.
The cost of live-in senior care is less than the cost of assisted living or a nursing home.  If your parents or loved ones have long-term care insurance, this can help defray the costs. Offering perks such as meals and the use of a car at no cost can help reduce the overall cost in some situations.
Payment Options for Live-In Home Care
Because the cost of live-in home care can be high, you owe it to yourself and your family to explore all your financial options. In most situations, live-in elder care must be paid out-of-pocket unless you have long-term care insurance coverage with home care benefits. However, there are a few options to look into that may cover part of the cost.
Will Medicare Pay for Live-In Care?
Most people ask if Medicare pays for caregivers at home and are disappointed to hear the answer is almost always no. Medicare will pay for the cost of visiting home health care aids in some situations, but not for live-in care. For this coverage, the visits have to be for medical needs, not personal chores or companionship.  Since Medicare doesn't cover live-in care, supplemental insurance policies follow suit.
Will Medicaid Pay for Live-In Home Care Services?
Medicaid varies significantly from state to state, so you need to check with your state's Medicaid office for information on coverage limits. Many states do give financial aid that can pay for some part of live-in care expenses. The most common form is a Medicaid HCBS waiver, which allows individuals who need nursing home level care but who prefer to remain at home to do so. There are additional circumstances when Medicaid may provide support, which you can check out by contacting New Jersey Medicaid.
Are There VA Benefits for In-Home Care?
There are some benefits available through the Veterans' Administration to cover the costs of home care for qualified veterans with certain conditions. The VA can help you determine the amount available and how you can access it.
Other Payment Options for In-Home Care
There are other options to help cover live-in care costs, including asking family members to contribute toward the expense. Keep in mind that an in-home caregiver will free you and your family members up for other commitments, which can make it worth the investment to assist your parents or loved ones with the cost.
If your loved one owns their home, a reverse mortgage is another option. A reverse mortgage gives them a specified sum of money each month based on the equity in their home. They can use these funds to pay for their care while at home. Upon their death or move to some assisted living or a nursing facility, the reverse mortgage has to be paid back, or the house is forfeited.
Finding the Best In-Home Care Providers for Your Parents
While many opt for a friend, neighbor, or family members to provide some form of in-home care for elderly loved ones, this can lead to problems. Using a professional in-home care service offers several advantages, including thorough screening of care providers, backup caregivers when needed, trained staff, emergency availability, and certified home health aides. Working with a service in your area ensures your parent or loved one will be able to age at home for as long as possible in a safe, engaging environment.
If you or an aging loved one are considering Live-In Home Care in New Jersey, please contact Expert Home Care, Inc. Call today: 800-848-2336
REFERENCES:
1.     AARP, Survey: What Makes a Community Livable? https://www.aarp.org/livable-communities/info-2014/aarp-ppi-survey-what-makes-a-community-livable.html
2.     American Public Health Association, The Nation's Health, As Senior Population Grows, Aging in Place Gains Popularity: Communities Conducting Outreach https://www.thenationshealth.org/
Latest posts by David Goodman & Frank Esposito
(see all)