According to some research, nearly 50% of all seniors have some level of kidney disease. During March, which is National Kidney Month, seniors, their families, and their live-in home care providers should learn more about lifestyle changes seniors can make to help protect their kidneys.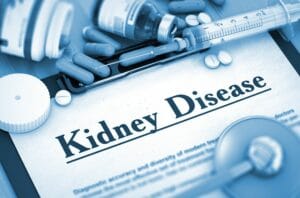 Kidney function is crucial for good health because kidneys clean waste out of the body and make sure that the body is functioning properly. Without good kidney function, the body can start to break down from the buildup of waste in the blood. Seniors who are over the age of 70, seniors with diabetes, and seniors with high blood pressure have an increased risk of developing kidney disease.
Some of the things that seniors should do right now to help protect their kidneys and that live-in home care providers can monitor are:
Stop Smoking
Smoking is terrible for your health in general, but it particularly affects your lungs and your kidneys. If your senior loved one smokes you should encourage them to quit. Many helpful and effective smoking cessation tools may be able to help your senior loved one quit smoking even if they have smoked for many years. Quitting will help your senior loved ones improve their health no matter how long they have smoked. Many seniors smoke at night because they get anxious being alone at home at night. A live-in home provider who comes at night to provide company and social interaction can help alleviate that anxiety and make it easier for a loved one to stop smoking.
Follow the DASH Diet
The DASH diet is a diet that centers on eating primarily vegetables and lean meats. DASH stands for Dietary Approach to Stop Hypertension and it's a diet created to minimize damage to the kidneys while also lowering the risk of hypertension. It's a very low sodium and low-fat diet that can be very effective at keeping the kidneys healthy. Seniors should always get a doctor's ok before starting a new diet, but the DASH diet may be a good option for your senior loved one to help them keep their kidneys healthy.
Exercise Daily
The current guidelines say that seniors should be doing some type of exercise at least five days a week for 30 minutes at a time. Exercise of any kind is better than no exercise at all. A simple walk around the block or going for a bike ride or even just walking around the yard can be enough to promote kidney health. The more exercise your senior loved one gets the healthier they will be.
Minimize The Use Of NSAIDs
NSAIDs or Non-Steroidal Anti-Inflammatory Drugs can have side effects that include kidney damage. NSAIDs are generally safe, but if your senior loved one takes them every day or if they need to have them for the pain you should have a doctor check them to see if someone else would relieve their pain more effectively. Over time the constant use of NSAIDs can start to damage the stomach and the kidneys. If your senior loved one is taking NSAIDs often for the pain you should discuss with their doctor if there is a better pain management solution for their situation. Live-in home care providers can help seniors manage their pain and dispense medication around the clock so that they can be pain-free.
Providing Live-In Home Care in New Jersey, Since 1985
Latest posts by David Goodman & Frank Esposito
(see all)