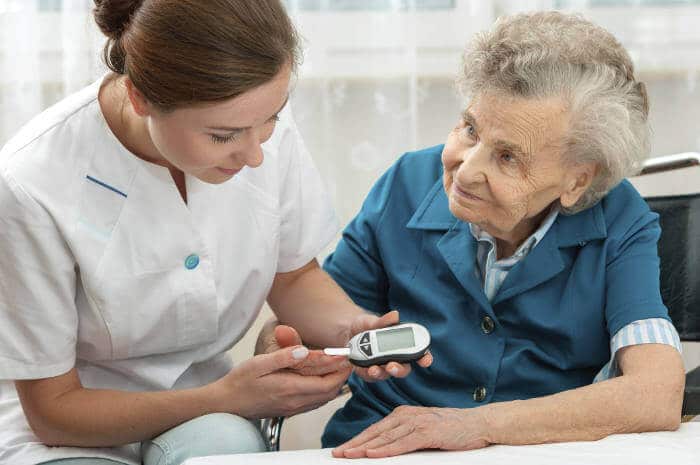 Controlling Diabetes in Seniors
Latest posts by Expert Home Care
(see all)
As we age, our bodies change and as a result we are more susceptible to illness and disease. A common disease among the elderly is diabetes. Studies have shown that common diabetes complications like chronic kidney disease, eye disorders that can cause blindness, and neuropathies that can result in limb amputations and infections can be delayed or even prevented with good glycemic control and medication.
Diabetes is a chronic disease that affects 29.1 million Americans, or 9.3% of the population (including over eight million who remain undiagnosed). Diabetics have trouble regulating their blood glucose (sugar) levels due to a shortage of insulin or an inability to use insulin correctly. The disease is particularly prevalent among seniors, affecting more than one quarter of all Americans 65 and older.
Adequate glycemic control means getting as close to a normal (non-diabetic) blood glucose level as you safety can – which is between 70 and 130 mg/dl before meals and less than 180 two hours after starting a meal.
One recent study of people with type 1 diabetes had half of the group continuing standard diabetes treatment while the other half followed an intensive-control program. Those in the second group kept their blood glucose levels lower than those on standard treatment.
The group with adequate glycemic control was found to have one quarter as many people with diabetic eye disease, one-half as many cases of kidney disease and about one third as many incidents of nerve disease. In addition, far fewer of those who already had early forms of these three complications got worse. Although the study was only conducted with type 1 diabetics, experts believe the results would be similar with type 2 diabetics.
Adequate glycemic control is possible with lifestyle modifications, including diet, exercise, and frequent glucose testing at home, and by following your physician's recommendations.
Glycemic targets are specific for each patient based on co morbidities, weight and physical activity level. Patients need to stay alert to possible adverse reactions, including low blood glucose reactions (hypoglycemia) and weight gain.
Maintaining good glycemic control should not be something you do on your own. It needs to be discussed with your health care team (doctor, diabetes educator, dietitian). They will help determine guidelines in terms of diet and exercise, and put you or your senior loved one on the right program for maintaining adequate diabetes control.